We wrote about the Focus Designs SBU (Self Balancing Unicycle) in 2008, over two years later and they now have SBU V2.0. The 2.0 version of the self balancing unicycle looks like a truly "ready for market" product. Yours for about $1500 here. Read on for full details.
The SBU (Self Balancing Unicycle) is a revolutionary gyro stabilized, accelerometer driven, battery powered, clean "green" vehicle. This cutting edge transportation vehicle is affordable, reliable, environmentally clean, and totally fun. The SBU is easy to ride, it takes the average rider about 20 minutes to learn. The SBU controls the forward and backward balance while the rider balances left and right. It's a unique blend of machine and human balancing. The rider controls the speed by leaning forward or backward to speed up or stop. There is no need to pedal, in fact there are no crank arms, just foot pegs. The SBU stays upright by utilizing advanced electronics including accelerometers and gyroscopes with sophisticated balancing algorithms. It's truly an experience like no other.

Under the Skin
The highly purposeful design of the SBU is evident in its robustness and elegant simplicity. The powerful 1000 Watt BLDC hub motor propels the rider forwards and backwards at up to 10 MPH. This advanced motor is built right into the wheel and is maintenance free. The SBU electronic balance control module is integrated into the wheel itself. The SBU control module performs several critical functions, including motor speed control, motor torque control, and regenerative braking. We've increase the number of sensors to seven for the SBU Version 2.0 which gives a smoother ride, a more accurate balance response and improved turning. Of course the most notable thing inside the SBU is the battery itself, our LiFePO4 lithium-ion nano-phosphate battery is powerful, safe, lightweight and able to take you more than 12 miles between charges.
Acceleration & Torque
The first time you ride the SBU, prepare to be surprised. You're at about 10 mph in a couple seconds without even thinking about it. There is no clutch pedal to contend with and no race-car driving techniques to perform. Just lean forward a little and you're off, without any sluggishness, the 1000 watt motor will keep the SBU upright under the rider. Then lean back and the SBU will slow to a stop with its powerful regenerative brake. When you take your SBU to the dragstrip you can expect to run the 1/4 mile in the low 95.0 seconds! (5-point racing harness and roll cage sold separately)
A Bonus: Regenerative Braking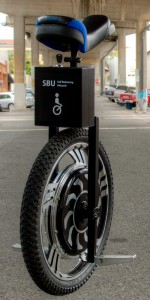 Regenerative braking "" which recovers and stores the energy usually lost when you slow down or go down hill "" extends your charge even further, delivering higher miles-per-charge on in-town riding. Think of it like engine braking with a bonus. Whenever you slow down or head down a hill, you send a charge back into the battery. It's a much-needed silver lining to red lights, traffic jams, hills and turtle crossings.
The Most Crucial Few Seconds
No self balancing unicycle manufacturer can prevent accidents, but we've done everything in our power to minimize the likelihood of one occurring and maximizing safety in case one ever does. A rider wears shoes on his or her feet which can be quickly dropped from the foot pegs resulting in shorter stopping distances and helps maintain unicycle control even under emergency braking conditions. The new SBU's foot pegs are only a few inches off the ground improving safety and side-to-side balance. The aluminum frame and deluxe gel seat envelops the rider in a protective cocoon of safety. The SBU features rider head protection when the rider wears the proper helmet or head protection gear. The SBU also features front, rear and side energy absorbing zones, these are commonly referred to as your knees, elbows, face and butt.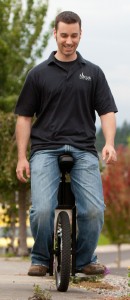 With Charging, It's Safety First
We're committed to making sure the charging process and the battery won't pose a safety issue to you, your butt (since the battery is right below it), or anyone stumbling around your personal transportation device. For starters, the charging port, located on the High Power Connector unit, is very low power (38.4VDC to be exact). The term "High Power Connector" is probably a little misleading for the low power charging port "" we may change the name, stay tuned. The battery pack is also protected with an internal battery monitoring and cell balancing system.
And just like the fuel gauge in a car, the multi-color LED on the SBU's battery box indicates the battery's charge state, gradually changing from green, full charge, to red, time to charge. Once the battery is completely drained the SBU continues to balance but will become stubbornly stationary and not obey your speed commands.
Fall Detection and Protection
The SBU is equipped with fall detection which disables the SBU's motor if a fall is detected. Just switch the SBU off and on again to get back on the saddle. Just like Grandma would always tell me "if you fall off your electric self balancing unicycle, get right back on."
Key
A comprehensive security feature of the SBU is the personal pocket sized unique metal security device called a key. Amazing! But actually the SBU is so light and compact that you can just keep riding it 24/7 to prevent theft.

Specifications
Style: 1-seat, open-top, single-wheel-drive electric self balancing unicycle.
Drivetrain: Direct drive, variable speed with electronic motor control.
Motor: Permanent magnet brushless DC motor with variable drive.
Efficiency: 85%
Throttle: Rider lean detection determines speed and direction.
Chassis: High strength 7005 aluminum frame.
Seat: Deluxe gel unicycle saddle, adjustable height.
Suspension: The tire and your body.
Wheel: Heavy duty alloy hub motor.
Tire: Quality high PSI. Size: 20"³x2.125"³
Brakes: 1000W regenerative braking via the hub motor.
Acceleration: 0 to 10 mph in 1 second
Speed: About 10 mph (depending on the rider's weight)
Range: About 12 miles (depending on the terrain)
Battery Life: Over 1000 cycles.
Battery: Custom high quality LiFePO4 lithium-ion phosphate 38.4 volt battery.
Full Charge Time: About 2 hours.
Charger: Custom international 2A fast charger. 100 to 240VAC.
Built: Camas, Washington USA
Dimensions:
Overall length (in. / mm) 20.0 / 508.0
Overall width "" pedals folded: (in. / mm) 13.5 / 342.9
Overall width "" pedals ready to ride: (in. / mm) 17.0 / 431.8
Overall height: (in. / mm) 34.5 / 876.3
Curb weight (lbs/kgs) 29 / 13
Leg Room (in./mm) unlimited / unlimited
Front Head Room (in./mm) unlimited / unlimited
Front Shoulder Room (in./mm) unlimited / unlimited
Standard features
Retractable cup holder (otherwise known as your hand).
Heated sport seat (after sitting on the seat it will become the same temperature as your bottom).
Stereo sound system with the optional iPod or equivalent music device (sold separately, not available at Focus Designs we recommend apple.com).
Homelink universal transmitter to operate compatible garage, gate, and home lighting/home security systems (sold at most hardware stores, clip it to your belt).
Double-insulated black soft top (otherwise known as your jacket, sold separately at most clothing stores).
Battery charging connector.
Keyed ignition.
Bluetooth cellular phone integration "" if you purchase a bluetooth headset for your phone (sold separately).
Premium powder coated frame.
1 year warranty.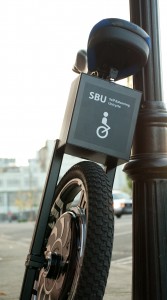 Electric Power
Most unicycles operate under the assumption that riding is merely a necessary evil if you need to get someplace at the circus. The result has been unicycles that are designed, built, and marketed in ways that refuse to glorify this truly unique transportation, and simply wear out the rider with all the stinking pedaling. We respectfully disagree. We believe riding the SBU is exhilarating. Just watch any child on a go-cart or Segway (if you're a rich child) and the joy is plain to see. And when you can soar along at top speed, knowing the only oil in the unicycle is in the wheel bearings, the only emissions are from the rider, the experience becomes more enjoyable still.
No More Trade-offs
Up until now, if you wanted a unicycle with amazing gas mileage, you'd pick something like a manual drive or pedaled unicycle; but when you pressed down on those pedals to zip up a freeway on-ramp, you'd likely be a little disappointed and completely worn out "" it would probably take over 10 seconds to reach 10 or so miles per hour. On the other hand, if you demanded the 0 to 10 mph of a $7,500 Segway, you'd wind up with a whole lot of fun but the embarrassment of people laughing and pointing at you, Which you totally don't get on an SBU, the electric self balancing unicycle "" get one today!
Efficiency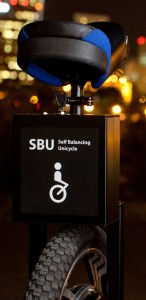 When you build a unicycle that's electric, you start with one built-in advantage: electric unicycles just don't have to be as complex mechanically as the gas powered unicycle you're probably driving now. Sophisticated electronics and software take the place of the pounds and pounds of machinery required to introduce a spark and ignite the fuel that powers an internal combustion engine.
For example, the typical four-cylinder engine of a conventional unicycle comprises over a hundred moving parts. By comparison, the motor of the SBU has just one: the rotor. So there's less weight to drive around and fewer parts that could break or wear down over time.
There is no clutch pedal. Just lean forward and the SBU takes care of everything. You can launch from full stop to about 10 mph without taking your focus off the road, just rest your feet on the lowered foot rests, lean forward, and enjoy an entirely new kind of riding experience.
Electrical Cost to Charge the Batteries
With your electrical company's pricing factored in, it will cost you roughly 2 cents per charge to ride the SBU. But the incentives don't stop there. Depending on where you live, other bonuses may include:
Single-occupancy access to all carpool lanes (okay we are kidding here, don't ride in the carpool lane by yourself, get your friend to ride on your shoulders so you don't get a ticket!)
No parking meter fees (due to that fact you can carry the SBU with you)