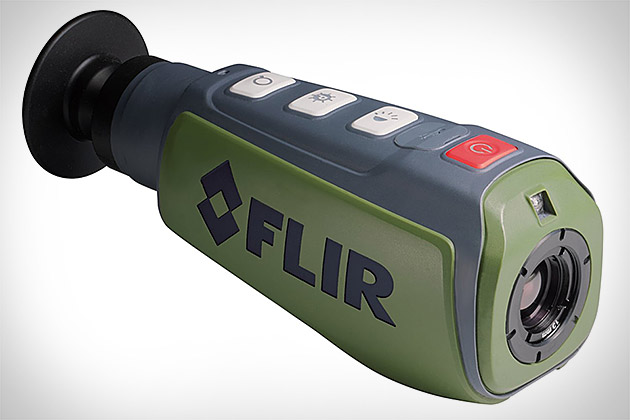 For some reason the Red Ryder BB Gun and night vision have always been high on my need want to have list. There is just something amazing about having the superhuman ability to see in the dark. This version uses FLIR or thermal imaging to see heat so you can use the FLIR Scout PS32 from dusk to pitch black. The PS32 is made to be rugged and outdoor friendly while weighing just 12-ounces (with battery) so you shouldn't get arm fatigue while using it. You get a 320×240 thermal imaging detector, viewing LCD display, three display modes, a tripod mount, and a rechargeable lithium ion battery. More details after the break.
With its small form factor, light weight, and powerful optics, FLIR's Scout PS-Series enables extended, on-the-move night vision use without arm fatigue. Like all FLIR thermal cameras, the Scout PS-Series creates images from heat, letting you navigate rough terrain at dusk, before dawn, and even when it's pitch black outside. The compact unit fits easily into the palm of your hand, and its simplified operation makes it an ideal choice for sportsmen, hikers, ranchers, rangers, or backyard nature enthusiasts, enabling you to:
Traverse rough terrain in low- or no-light situations
Spot nocturnal animals, lost livestock, or downed game
Locate missing people in adverse conditions
See through light fog, smoke, or trail dust
Weatherize your home by locating missing insulation, leaky windows, or drafty doors
Features
Rugged, weather-proof, ergonomic design
Crisp resolution with optional 2X E-Zoom and Freeze Frame
Small and lightweight, at 12 ounces and less than seven inches long
White hot, black hot, and InstAlert display options
Intuitive three-button operation
Embedded LED task light
Rechargeable internal lithium-ion battery
Compatible with mounting on standard tripod
Includes Scout PS-Series thermal handheld camera, USB cable, wrist strap, soft drawstring bag, and product CD
Optional accessories include charging cradle and molle-compatible belt holster
PS-32 Specifications
Thermal imaging:

320×240 VOx microbolometer detector
19-millimeter fixed focus
24-by-18-degree field of view
7.5-13.5 um waveband
2X digital E-Zoom
Less than five-second start-up time
+/- two diopter adjustment
USB port

Image presentation:

Built-in color LCD display
White hot, black hot, and InstAlert polarity settings
FLIR proprietary Digital Detail Enhancement image optimization
9 Hz refresh rate video format

Physical:

12-ounce weight with battery
Measures 2.3 by 2.4 by 6.7 inches (W x H x D)
Standard tripod mount

Power:

Rechargeable internal lithium-ion battery
Also charges via USB cable
Optional charging cradle
Five hours of operating time on one charge

Environmental:

IP67 submersible waterproof rating
-4 to 122 degrees Fahrenheit operating temperature range

Range:

Detect six-foot person from up to 350 yards
Warranty
This FLIR night vision device includes a limited two-year manufacturer's warranty against defects in materials and workmanship.
About FLIR
FLIR was founded in 1978, originally providing infrared imaging systems that were installed on vehicles for use in conducting energy audits. The company later expanded its focus to other applications and markets for thermal imaging technology, such as stabilized thermal imaging cameras for law enforcement aircraft, radiometry devices for use in monitoring industrial systems, and thermal imaging systems for use in ground-based security and search and rescue. Today, FLIR is one of the world leaders in the design and manufacture of sensor systems that enhance perception and awareness for a wide variety of users in the commercial, industrial, and government markets.