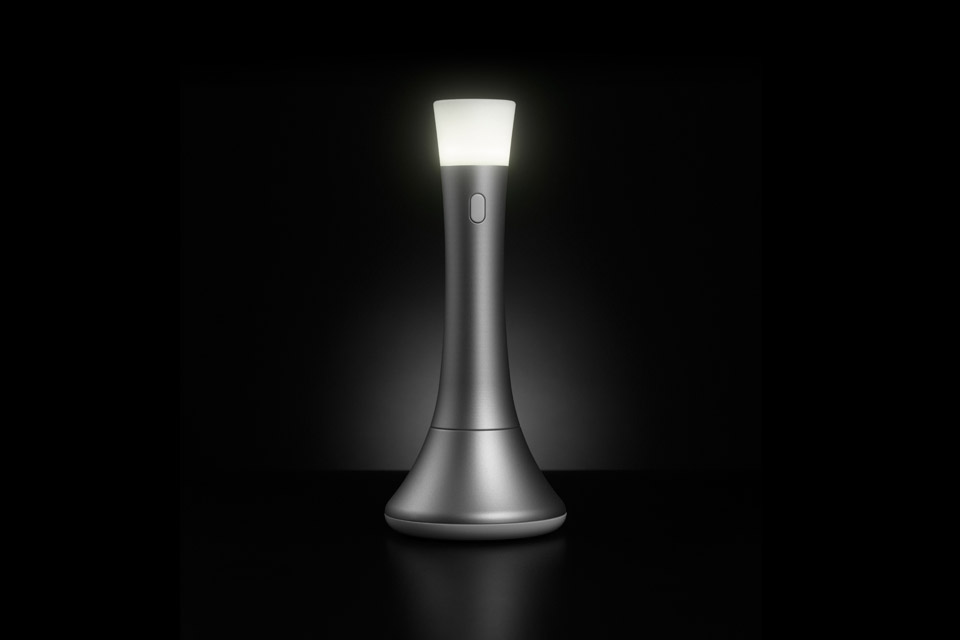 While the Trioh! flashlight is beautiful, I am not sure it is the "world's most beautiful flashlight", but you will have to take that argument up with the designer Greg Hinzmann. Either way the Trioh! Flashlight is quite functional and does quite a bit more than your typical flashlight.
The Trioh! sits in a cool base that keeps its rechargeable batteries topped off. If the power goes out the Trioh! automatically turns on for accent lighting. There are three adjustable LEDs which provide about 12 hours of constant use in flashlight mode. When switched to the flashing mode it can run for a full three days.
"I developed the Trioh! after years of living in an area that was prone to power outages. Stumbling around in the dark looking for a flashlight when I needed it most and often finding the batteries dead spurred the idea," said Greg Hinzmann, designer of Trioh!. "We keep our flashlights hidden out of sight because they are designed like tools. I realized that if you design something attractive enough, people will display it making it even more practical."
For $69 contributors to Trioh! on Kickstarter will receive one Trioh! and free U.S. shipping. Contributors making a larger donation will receive the following:
$125 or more "" Two Trioh! flashlights ($33 savings over retail) and free U.S. shipping
$125 or more "" One special, Kickstarter only edition Trioh! in black with green accents and free U.S. shipping
$295 or more "" Gift pack of five Trioh! flashlights and free U.S. shipping
$525 or more "" Ten Trioh! flashlights and free U.S. shipping
$4,900 or more "" Distributor pack with 100 Trioh! flashlights and free U.S. shipping